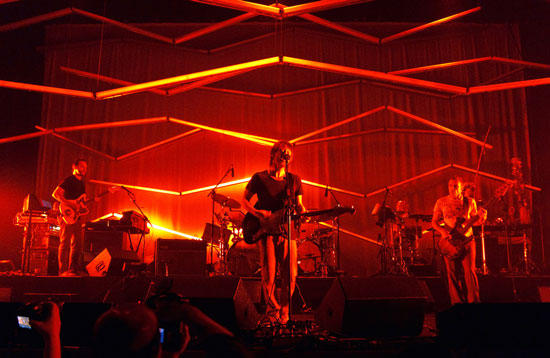 Atoms For Peace
es lo que uno llama un superstar band o simplemente le podríamos decir la nueva banda de Thom Yorke, formado por él (como líder vocal, guitarra, piano, teclados y percusión), Flea de Red Hot Chili Peppers (bajo y melodica), Nigel Godrich el productor de Radiohead (en teclados, guitarra, coros y percusión), Joey Waronker en la bateria (toco y trabajo con R.E.M, Beck, Smashing Pumpkings, Ima Robot y Elliot Smith) y Mauro Refosco en batería y percusión (perteneciente a Forro In The Dark y baterista de David Byrne).
Se les vio por primera vez en vivo en octubre del 2009 cuando hicieron un concierto para la gira del "The Eraser" de Thom Yorke, los rumores es que lo hacian por simple diversión y se el empezo a llamar The Eraser;
En febrero en la pagina oficial de Radiohead, Thom publica el nuevo nombre de la banda "Atoms For Peace" -Nombre del primer sencillo lanzado de the Eraser y por el lado político el nombre del discurso de 1953 de Eisenhower, con el cual declara que la energía atómica es viable para uso civil alejándose de su uso bélico- y anuncia una gira de 9 fechas por norte América junto a Flying Lotus. Acá esta completo el concierto en la ciudad de Oakland simplemente potente, maravilloso.
Atoms For Peace - 2010-04-15 - Oakland, CA - Fox Theater by Some Kind of Awesome